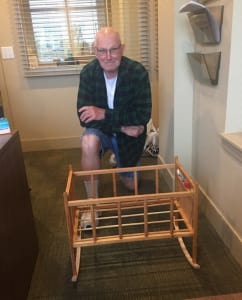 Meet Alan, one of our wonderful Affinity residents. He and his wife Laurel sold their home in Savage, MN and were among the first to move into Affinity when it opened its doors in July. Alan has enjoyed woodworking for many years, completing many projects including a delightful wooden train set for their grandson. He's continuing his passion in the Affinity workshop.
The crib pictured is an antique crib that belonged to his wife when she was a child. The crib was in rough shape before Alan set to work restoring it. What you see is the stunning result. They plan on giving it to their granddaughter as a Christmas gift. Alan is also working on carving several wooden toy cars that will be painted by residents at a resident event coming soon. The toy cars will then be donated by Affinity to a local charity.
Kudos to your talents, Alan!